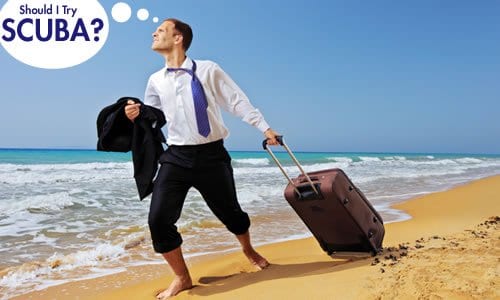 Finally after months of careful planning and painfully waiting, you've arrived to Maui, Hawaii. Toes buried in the sand, a tasty beverage in one hand, a grip of exciting brochures in the other, each telling you "what to do on Maui". On the cover of the brochure your eye catches a scuba diver and a gorgeous sea turtle gliding in the water "Ever wonder what it's like to be underwater?". Whether it is the fact that you are 2000 miles away from home or the Blue Hawaiian taking its effect, you can't help but wonder "But, wait, how do I breath? Can you see anything underwater? Is it hard? Is it dangerous?? Can I SCUBA dive? Is now the time to try scuba diving here in Maui?"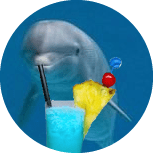 This hypothetical 'mind lost in paradise' situation is actually more common than you might think, it speaks to the fact that our busy lives rarely open to the opportunity for these types of adventures, exploration and experiences outside of our routines. Scuba diving is much like, hmm, lets see, flying? Have you at some point looked to sky and wondered "what is it like to fly?".
Let's look to the world's most known and establish ocean explorer to see why he loved scuba diving:
"The reason I love the sea I cannot explain — it's physical. When you dive you begin to feel like an angel. It's a liberation of your weight."
-Jacques-Yves Cousteau

What is it like to Scuba Dive?
The moment you make the plunge and take in your first breathe underwater (albeit with a scuba air tank) you immediately realize you have entered a new world, never before accessible to you, till now, time and circumstance aligned with your will to explore and… here you are. Seventy percent of the planet which was previously unoccupied by you, is now beckoning to be explored. A new scuba diver joins the ranks with their first time scuba dive now under their belt.
New scuba divers are not expected to leap off into the ocean on their very first scuba diving excursion, in fact a dive student's first scuba dive will be at a safe dive site, like a shallow beach or bay. Shallow enough to stand up in if that is what you need to do. Additionally before entering the Maui ocean, the Scuba instructor will teach and carefully explain how all the dive gear works, and will familiarize you with simple techniques used to to scuba dive here in Maui. The first skill you are likely to try is breathing through a scuba regulator. Scuba Mike is unique in that he specializes in Maui Shore Dives, you see 99% of Maui best dive spots are all accessibly by the shore, which also makes it a great place for first time scuba divers, you can prepare and learn in the shallows and as you build confidence we venture into the deeper waters.
Is it hard to SCUBA dive?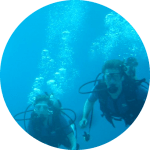 Scuba diving is unlike any other ocean sport, perhaps any activity ever. Think about it, maybe the only close experience is going to the moon, yet I doubt you will see any turtles, mantas, whales or other colorful life forms. First, YOU DO NOT HAVE TO BE AN ASTRONAUT TO SCUBA DIVE! Yes yes, many are intimidated by the air tanks, gear and apartus which make us master scuba divers appear to be brave and sophisticated, but in reality it is all rather natural, somewhat easy, it only requires a short period of training and you will be ready to get started on a Maui introductory Scuba dive.
Whether your goal in scuba diving maui is watching sea life, learning about ocean conservation, or an underwater adventure with your family, SCUBA is a time proven experience you will never forget. Scuba is a lifetime experience you will not forget and to this day it is a loved experience for the young and old.
If you are ready to try scuba diving on Maui as your first time to go under water, Scuba Mike is the Maui scuba instructor that will guide your way. He is passionate, experienced and knows everything it takes for you to understand the sport and decide how to follow the call to the Ocean. Call Mike today, he is friendly and helpful! 808-250-5494
Stay tuned for part 2 of our series of "Should I try Scuba Diving?" Where we discuss questions like "Benefits of PADI license". In the meanwhile you can learn more here>
Watch a Video: "My First Scuba Dive Experience"