Winter chill is setting in and it is starting to get cold out there with record low temperatures around North America caused by arctic blasts and freezing temperatures. Many scuba divers now begin to wonder how they can keep up with their passion for underwater exploration while others are not effected by the cold water and simply layer up with neoprene. If you live in Canada, Washington, Oregon or even California you might be drying out your gear and planning your next adventure in warmer waters. One of my favorite things to do is traveling the world! Meeting the local people, trying the local food and experiencing the culture is all a great experience and life enriching. What makes us scuba divers unique is we don't stop there, we go beyond the beach and into the ocean, we venture to meet the life aquatic and adventure into the depths of our world and beautiful oceans.
Top 5 Scuba Destinations In The World & Winter Vacation Planning 2014-2015
Here is my top scuba diving destinations that are great this time of year and all throughout the year for that matter. -SPOILER ALERT; Maui is #1 dive destination once again!.
Top 5 Scuba Destinations Throughout the Year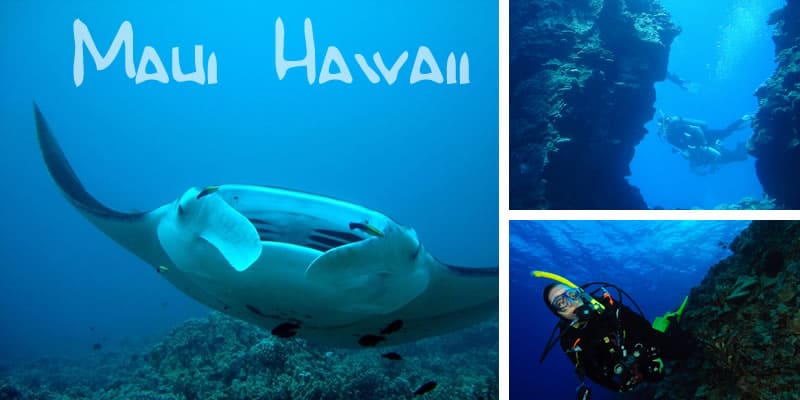 World Scuba Diving Location #1: Maui, Hawaii
Welcome To Maui! Discover an underwater ecosystem like none other in the world. Maui is the exclusive host to many fish and plant species, an exciting proposition for any scuba dive enthusiast. From Night dives with manta rays to exploration of the Lanai underwater caverns, Maui is a world all its own. Visit Maui and swim on the shores of Kanapali or Mekena, attend a luau in Lahaina or Wailea, and take a surfing lesson while relaxing in a beautiful climate all year around. Winter visitors are often delighted by the humpback whale migration that takes place from December through April. Almost all Maui dive sites are accessible from the shore, making vacation divers delighted by the accessibility of diving while on vacation. Give Maui Scuba Mike a call at 808-250-5494 and ask directly why we think Maui is the Top scuba destination in the world!
Popular Dives: 5 Caves, Turtle Town,  Makena, Molokini Crater, Lanai Caverns
Best Time to Travel: Year-round

World Scuba Diving Location #2: Turks and Caicos, The Caribbean
Turks and Caicos rose to popularity about fifty years ago because of its tranquil water and exotic marine species. Often uncrowded compared to other Caribbean scuba destinations, Turks and Caicos is a place designed for serious scuba masters as well as relaxation. The underwater landscape plunges dramatically allowing wall diving not far from shore, where scuba divers can jump from great heights while surrounded by breathtaking scenery.
Humpback whales often make an appearance as they migrate to warmer climates during the winter around the same time as Maui humpback whales are also visiting. Snorkelers also love the shallow reefs and beautiful underwater ecosystem of Turks and Caicos making it a destination for all types of underwater enthusiasts.
Popular Places: Grand Turk, Salt Cay, West Caicos, and Grace Bay
Best Time to Travel: December through March.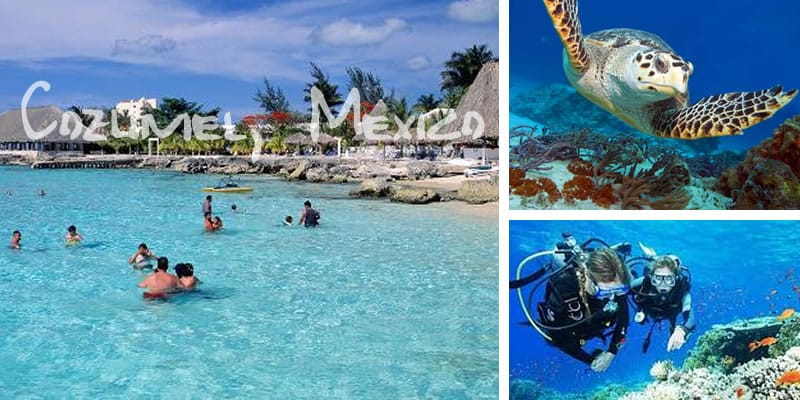 World Scuba Diving Location #3: Cozumel, Mexico
A must on any serious scuba diver's list, Cozumel offers a wide variety of diving options. From night dives to cruises highlighting shipwrecks and underwater photography, the many dive operators of Cozumel are sure to please. Jacques Cousteau put Cozumel on the map and it has since risen in popularity because of its extensive Maya Reef system stretching more than 500 miles between Mexico to Central America. The amazing fusion of colors and textures is what makes Cozumel such an exciting scuba diving experience year round. You won't be disappointment!
Popular Places: Santa Rosa Wall, Maracaibo Reef, Felipe Xicotencatl (C-53 Minesweeper Wreck), and Tormentos Reef. Explore the ancient Mayan lifestyle, and sunbathe at Parque Chankanaab.
Best Time to Travel: June through August when crowds are less and prices are low.

World Scuba Diving Location #4: Belize
A spectacular destination for scuba dive masters looking to swim into the popular Blue Hole's 400 foot depths, Belize is considered a top scuba diving target. Home to the second largest barrier reef, Belize offers a huge variety of underwater sea creatures and systems. Sharks, rays, and schools of exotic fish make snorkeling dives thrilling and memorable. Belize boasts three of the world's atolls, or deep walled lagoons, which are perfect settings for all levels of scuba diving.
Popular Places: Glover's Atoll, Hol Chan Marine Reserve, Blue Hole, Half Moon Cave, and Turneffe Atoll.
Best Times to Travel: April through July when hurricane season is over, accommodations are cheap, and the water is warm!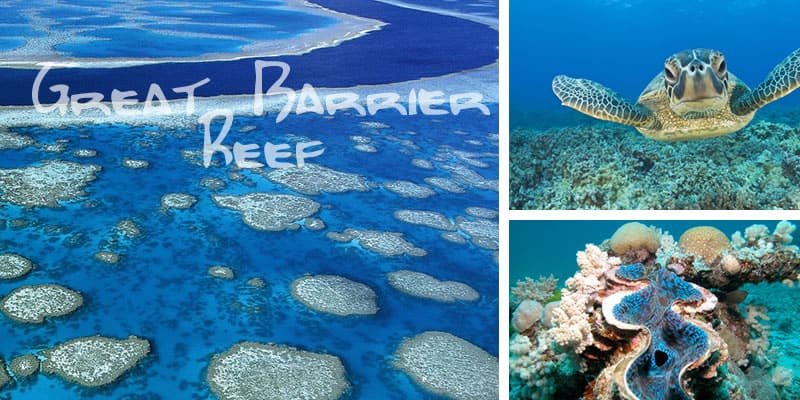 World Scuba Diving Location #5: The Great Barrier Reef, Australia
Scuba divers could spend an entire year exploring the colossal Great Barrier Reef systems. Stretching more than 1,400 miles along the Australian coast, this reef boggles the mind in surface area and scale. Able to be seen from space, The Great Barrier Reef could easily be considered an underwater country. Featuring a diverse ecosystem, The Great Barrier Reef promotes 1,500+ fish species, countless shipwrecks and a million other tourism activities like sailing the Whitsunday Islands and visiting Daintree National Park.
Popular Places: Blow Hole, Cathedral, Lighthouse Bonnies, Yongala Wreck, and Osprey Reef.
Best Time to Travel: June through August but avoid jelly fish season from November through May
---
Are you considering a scuba dive vacation this winter season? Consider Maui, its a great place to dive and has so many wonderful options for activities and exploration. Voted the best island in the world many times over. Call Scuba Mike at (808)250-5494 to learn more about our Scuba Diving Vacation options, single dives, PADI Certification and many more accessible scuba dive offerings. Mahalo and Aloha!