Scuba diving is a sport that not many people give a thought to throughout the winter months. Especially not during the Christmas season. The idea of diving down into warm waters at a tropical location seems to slip from peoples minds and is replaced by Christmas carols, candy canes,  mistletoe and snuggling up by the fire. But if you are like me and my friends and you find that you have a die-hard scuba diver on your list of people to buy Christmas gifts for this year, have no fear! Below is a list of some of the best gift ideas for the diver in your life.
Submersible Systems Spare Air 300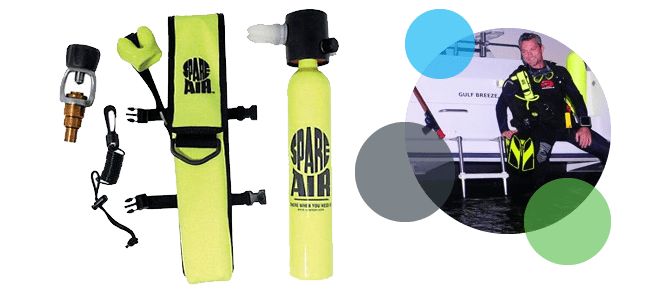 This easy to fill Spare air system is the perfect miniature redundant air supply for any recreational scuba diver. This system is small, hands free, and easily attaches to your buoyancy compensator. There's even a N2 version for Nitrox divers!It is the most ideal system of its kind because of its small size. It can be deployed with one hand and is always on so if you get into a dangerous situation underwater you know this device will be there for you as a reliable backup.
Darkfin Gloves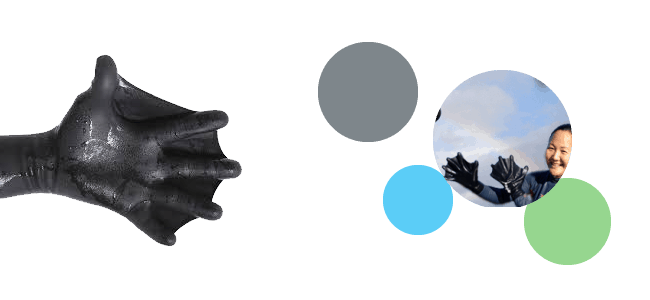 Darkfin Gloves are the most advanced webbed power glove on earth. They are made with latex rubber, and are uniquely constructed for comfort, grip and dexterity. This original design increases the hands surface area by 70%, which helps improve surge control and underwater speed for divers. They also help increase your strength and stamina by building more muscle power against all the resistance they create. You can easily make them fingerless by simply cutting off the fingertips if you need your fingertips available to complete tasks when diving. They have a cotton-flocked surface for superior grip and are seamless which eliminates the possibility of loose or fraying stitches.
H2Odyssey Torid Pulse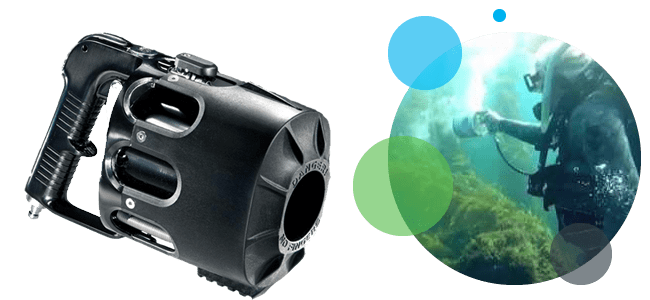 The Torid-Pulse is a high performance underwater system designed for fun! It is manufactured and tested by experienced divers as an underwater toy for entertainment when scuba diving. This air ring and water blaster can also be used for safety purposes. This toy can blast water 15 feet into the air from the water's surface to notify your dive boat of your location or get their attention. It has size-adjustable air rings that you can blast down into the water to get your fellow diver's attention when there is no sound. You can play games like capture the flag under water!
Aquabionic 1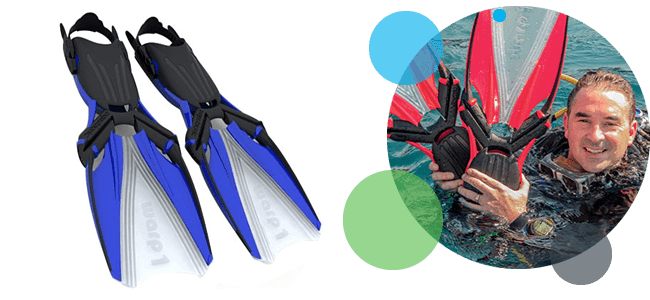 Be the first to dive a fin touting the world's most advanced fin technology, which Cetatek calls "water adapting responsive propulsion (WARP)." Any good diver knows the importance of good fins.They have a membrane that expands when kicked which rapidly enhances the power of your kick. Whether in tropical or frigid waters these fins are proven to be the leader of the pack. These fins have adjustable straps with a quick release feature in case you need to get them off right away which is an excellent safety feature. Swimming against the current is more feasible than ever with these fins. Available in three sizes and seven colors, its looks are as radical as its performance.
3MM ELASTEK FULL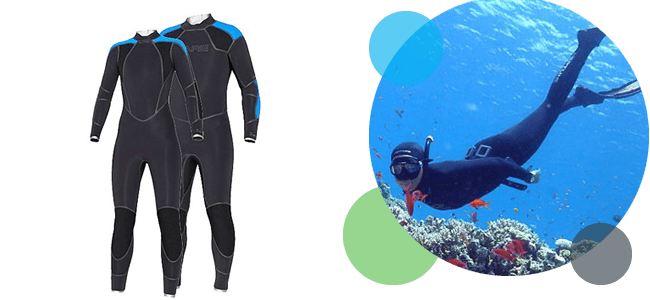 The Elastek is packed with features to prevent cold water from stealing body heat.  crafted with top-shelf materials and is priced well. It has high-tech sealing, stitching and waterproof barriers as well as complete flexibility. It is certain you will be warm and dry with this suit. When you stop being cold is when you are able to become truly present in the water, seeing aquatic life that you may not notice otherwise. It has a two-year warranty so this gift is a no-brainer.
Mares Hybrid MRS Plus BC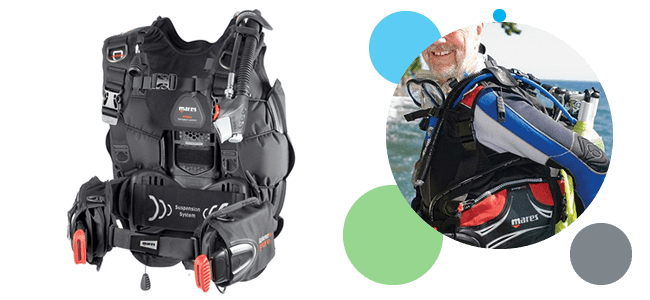 A rigid folding backpack and detachable harness design allows you to downsize this back-buoyancy BC for traveling. It is extremely lightweight which will help with your travels to exotic diving locales. Despite this it still delivers top-notch stability in the water. It has back pockets if you need to add weight. The way the air-cell is designed allows total freedom of movement and simplifies your need to maintain the right buoyancy. It has a lumbar suspension system making it one of the most comfortable of its kind on the market.
Oris Pro Diver Chrono Dive Watch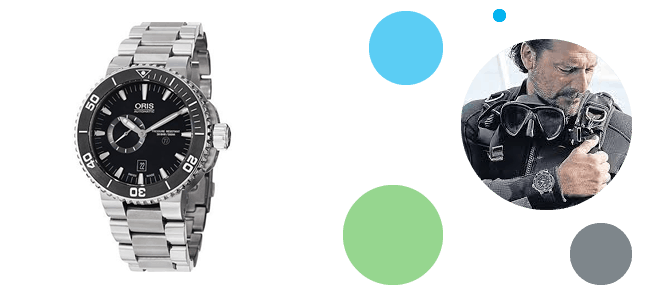 This is a must-have for the professional diver. Depth-rated to more than 3,000 feet, the Pro Diver's multipiece titanium case and black dial offer a chronograph and high-viz counter displays, plus a rubber ceramic top ring that has a lift-up/lock-down mechanism. This is a hefty watch that can exceed the demands of its job. It has an adjustable strap and a well figured dial.
Atomic Cobalt2 Dive Computer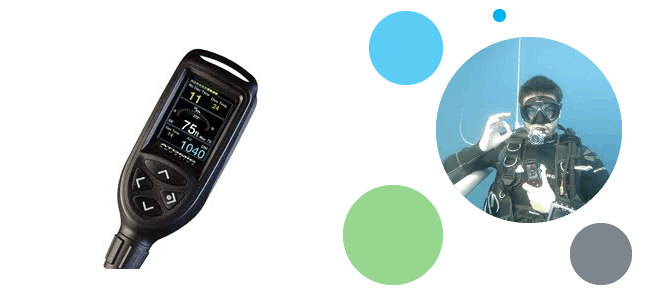 This air-integrated console-style diving computer has a great color screen and intuitive menus. It's a full-featured advanced data cruncher that couldn't be easier to use. Its display is easy to understand and self explanatory, no tutorial necessary. Its visuals are so clear with such great contrast you will never have to worry about being able to view this computer no matter what conditions you end up in. Its powerful lithium battery gives the computer 40-60 hours of dive time. You can stay organized with the dive log and planner and store information about your dive in the 600 hours of memory in this computer! atomicaquatics.com
GoPro HERO6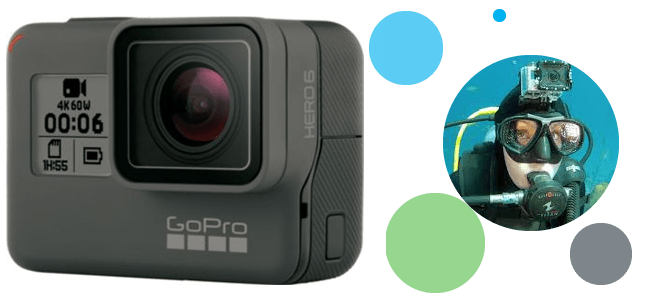 This awesome camera is touted as the most cutting edge Go-Pro yet. It features 4K30 and 1080p120 video, 12MP photos up to 30 frames per second, built-in Wi-Fi and Bluetooth®, and Protune™ for photos and video. It is waterproof to 131' (40m) and includes mounts for your stand-up-paddle board or surf board.It also has an option to play music so whether you are filming an important diving session or just playing around in the surf this camera has features to vastly enhance your experience.
TUSA M40 Splendive IV Prescription Diving Mask
Enjoy 20/20 under-water vision again with this TUSA Splendive IV scuba mask combined with made-to-prescription lenses! The lenses can be tailored to your exact needs, whether it be correction for nearsight, farsight, astigmatism or even bifocals. These goggles have side lenses to allow for peripheral vision and have a double silicone seal to guarantee you will never have a leak. They come with a protective case and reusable anti-fog cloth.
As a scuba diver it is very important to make sure your equipment is up to date for safety standards. Help the diver in your life stay safe and have the best diving experiences possible by gifting them with something they are truly interested in that they can use for a long time to come. Your gift will inspire your loved one to be adventurous and pursue their hobby with the safest and most advanced equipment on the market.